Sentry Naples Gets Hit Hard by Hurricane Irma – Receives Praise from Communities Association Board Members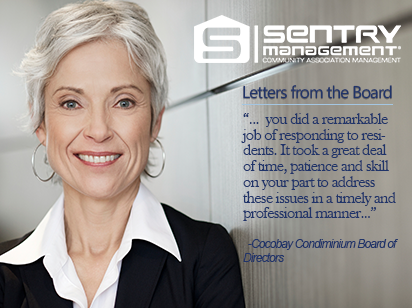 Sentry Community Association Managers across the state of Florida had to properly prepare communities for Hurricane Irma, the strongest Atlantic Basin hurricane on record that hit the state of Florida.
Sentry Naples was an area that got hit the hardest by the storm, with flooding, prolonged power outages, contaminated water supply, and major structural damage. The local community managers received some exceptional feedback in the form of letters from local association Board Members in regards to how they handled the cleanup process after the hurricane swept through.
"I cannot thank our Community Association Manager enough for the outstanding, professional services she provided during the endurance of Hurricane Irma and its aftermath," – an Emerald Woods Board Member said.
"As I was not in Naples at that time, our Community Manager served as my eyes and ears at Emerald Woods. Her dedication to the property was outstanding. Not only did she handle all local contractors, she also either emailed me numerous times daily with updates and would even call with updates as to the status of conditions she was dealing with for us," – he explained.
The Sentry Naples Division received letters of appreciation for how they handled the difficult situation from several different communities across the area.
"We as the board of directors would like to take this opportunity to give a special thanks for your exceptional effort before, during and after hurricane Irma. You were able to bring quick order to a myriad of issues with both service personnel, as well as residents. Realizing that your office was closed and you had no internet service at your home, you did a remarkable job in responding to residents. It took a great deal of time, patience and skill on your part to address these issues in a timely and professional manner," –the Board of Directors at Cocobay Condominium said.
We are certain that the vast majority of Cocobay residents share these views, and appreciate how helpful and responsive you were during and after Irma's visit," Cocobay Condominium Association Board Members said.
Sentry Management is a leader in managing homeowner associations and condominiums since 1975.