Sentry Managed Community Celebrates Opening of New Community Pool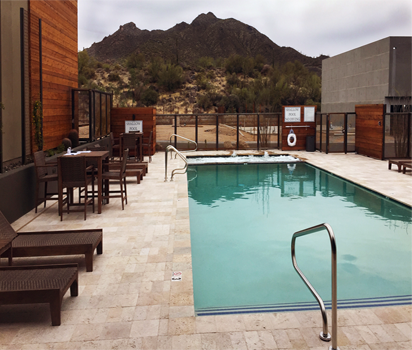 Murphy's Law seemed to apply to the community of Hidden Rock at Cave Creek in Phoenix, AZ the last couple of years. The community had been dealing with the foreclosure of the original developer and all of the delays that come along with that.
Two years ago, several clients purchased new homes within the community, and have been waiting for those homes to be completed ever since. Roads within the community remained unpaved, forcing some residents to drive on dirt roads. Projects like installing common elements, including the community pool were also put on hold.
Fortunately, a few positive changes transpired, including a new development company stepping in to finish all of the uncompleted projects, and Sentry taking over as their community management company.
Residents of the community were extremely excited to have their pool keys delivered at the beginning of January. They also are looking forward to the grand opening of the new model homes, currently slated for February.
Sentry Management is a leader in managing homeowner associations and condominiums since 1975.